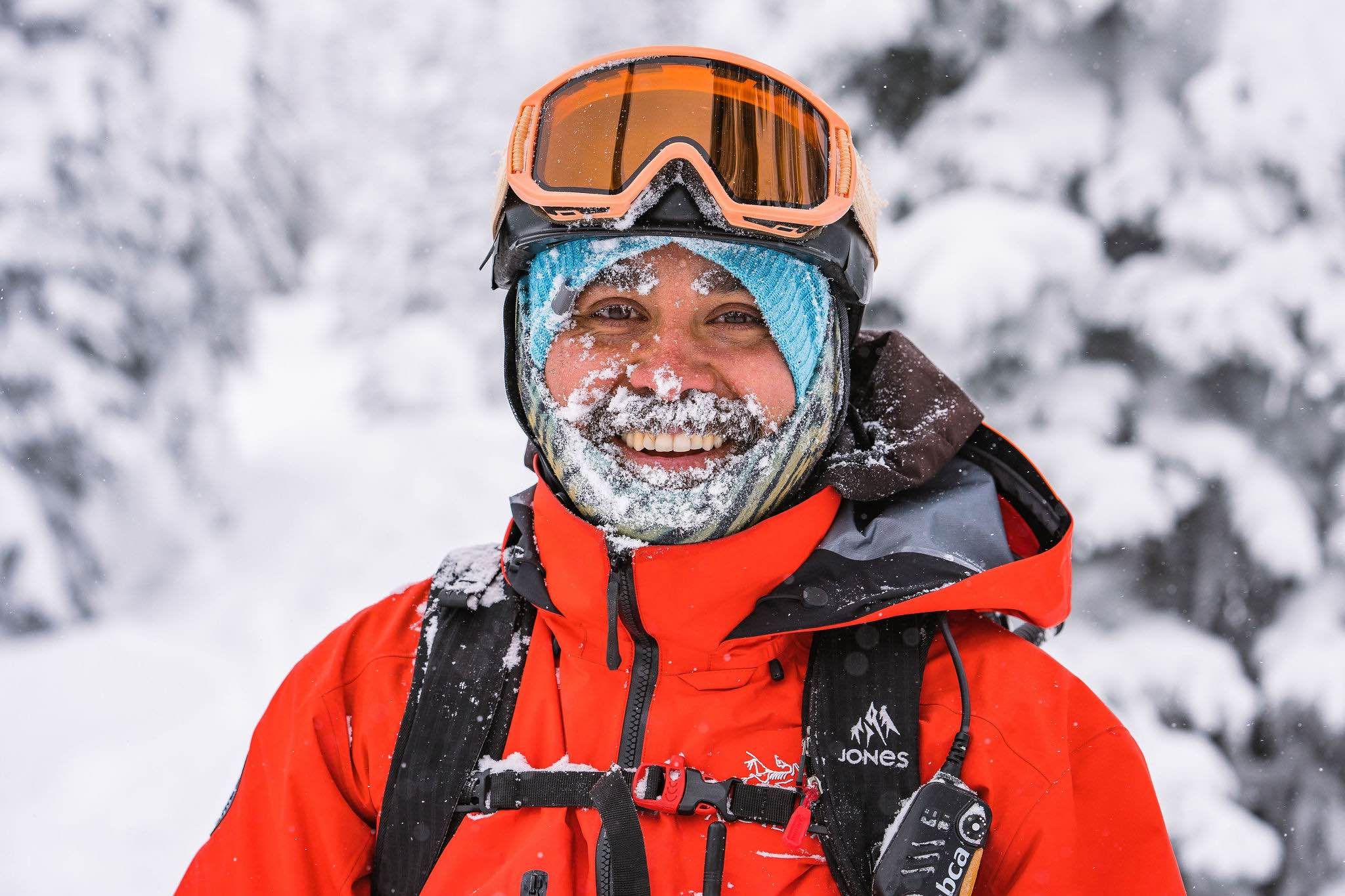 WORK HERE.
Our people are the heart and soul of the cat skiing experience. We are looking for team members this upcoming winter season who share their passion for skiing/boarding while providing a level of excellence in both customer service and safety.
Big Red Cats is one of the largest cat-skiing operations in the world and offers amazing glades and tree-skiing runs!  Working here allows the opportunity to have new experiences in the mountains and meet interesting people from all over the world.  You can enjoy the Kootenay lifestyle while making lasting connections with our experienced, passionate guide team and explore all that town of Rossland has to offer. 
WHAT WE OFFER.
Competitive pay
Professional development benefits such as course reimbursement and training credits
Shared seasons pass to local RED Mountain Resort 
Lodging support if applicable. Live in Rossland or at the RED Resort base area, no remote lodge life here.
A HeliCat Canada Accredited organization
JOB POSTINGS 2023/2024 SEASON
Alpine Guides  [NOC-64322 ] 
Big Red Cats, Inc  Box 742, 4420 Red Mountain Road, Rossland, BC V0G 1Y0
Job Type:          Full-Time, Seasonal Employment   
Start Date:         December 15, 2023 – March 30, 2024 
Language:         English
Positions:          1
Job Location:    Vancouver, BC  
Hours of Work:  30-60 hours per week
Salary:                $ 47.50 / hour
JOB DESCRIPTION Alpine Guides  [NOC-64322 ] 
MAIN DUTIES:
Plan itinerary for skiing expeditions and arrange transportation or transport individuals or group to side.
Assemble and inspect all necessary equipment and supplies needed for the alpine skiing expeditions.  
Provide first aid in emergency situations.
Lead and escort individuals or groups and advise on safety and emergency measures, techniques and the use of equipment. 

Provide navigation, avalanche assessment, and medical evacuation as required.  
REQUIREMENTS:
Must be fully qualified as a Ski Guide with ACMG Full Ski Guide or CSGA Level 3 Guide or International equivalency (eg. AMGA, NZMGA, IFMGA, etc.)
Must have Canadian Avalanche Association Level 2 or International Equivalent
80 hours of First Aid is required. 

Must be a team player, reliable and a hard-worker.
Only those applicants short-listed will be contacted for interviews. 
Please forward all cover letters and resumes to This email address is being protected from spambots. You need JavaScript enabled to view it.
Posted: May 1, 2023
---
Snow Safety Officer (FILLED)
Minimum Qualifications:
ACMG Full Ski Guide or CSGA Level 3 Guide or International equivalency (eg.NZMGA Ski Guide)

Canadian Avalanche Association Level 2 or International Equivalent
80 hours of First Aid 
Overview of responsibilities:
The SS officer will work closely with the supervising guide to manage and mentor the snow safety team.
Direct report to Guiding Manager

Lead the BRC forecasting team

Oversee  BRC avalanche forecasting program

Set standards for recording weather, snowpack and avalanche observations

Oversee and manage BRC infoex workflows and record keeping to ensure it is up-to-date, snow profiles are drawn-up and filed correctly and critical information recorded. 

Manage all BRC avalanche safety resources and equipment

Oversee set up and operation of the BRC weather plot at Diamond Col

Supervising guide responsibility as rostered

Lead guide snowcat skiing
To apply: Only those applicants short-listed will be contacted for interviews. Please forward all cover letters and resumes to This email address is being protected from spambots. You need JavaScript enabled to view it.
---
Lead Guide  (aka Assistant Ski Guide):
Minimum Qualifications:
ACMG Apprentice Ski or CSGA Level 2 or International equivalency

Canadian Avalanche Association Level 2 or International Equivalent
80 hours of First Aid 
Class 4 license not required but an asset
Overview:
The primary responsibility of the Lead Guide is to organize and facilitate a safe and enjoyable ski program for their group. He/she must also assist the Supervising Guide in running the overall ski program on a daily basis. 
To apply: Only those applicants short-listed will be contacted for interviews. Please forward all cover letters and resumes to This email address is being protected from spambots. You need JavaScript enabled to view it.
---
Tail Guide  (aka Second Guide):
FILLED FOR 2023/2024
Minimum Qualifications:
CSGA Level 1 (preferred but not required)

Canadian Avalanche Association Level 1 
80 hours of First Aid 
Class 4 license not required but an asset
Overview:
Tail Guides ski at the back of a group to help manage the group. Manage or assist in emergencies, assist guests, and support in any other way that the lead guide requests. Tail guides also have some of the most interaction with guests in the day and are expected to share the stoke and help elevate the guest experience. 
To apply: Only those applicants short-listed will be contacted for interviews. Please forward all cover letters and resumes to This email address is being protected from spambots. You need JavaScript enabled to view it.
---
Snowcat Operator
Job Description/Duties
Build & maintain snowcat roads

Transport staff & guests throughout day

Maintain and clean snowcats

Observe carefully and adhere to all company safety, operating, and maintenance

Assist guides with various duties when needed
Qualifications:
Previous snowcat driving experience (grooming/cat-skiing/heli-skiing)

Valid Class 5 driver's license

Familiarity with cat-skiing and other backcountry operations preferred

Excellent navigation and radio communication skills
Compensation: Dependent on certification level and experience. Daily lunch included. Transportation to/from staging area from Rossland also included. 
Schedule: Full-time and part-time positions available.
All qualified candidates are encouraged to apply; however Canadians and permanent residents will be given priority
Please submit resumes to Richard Streadwick, VP of Operations This email address is being protected from spambots. You need JavaScript enabled to view it. (cc' This email address is being protected from spambots. You need JavaScript enabled to view it.)
Housekeeping
Job Description/Duties:
Our housekeepers are key to turning over BRC's lodging for each guest visit at The Red Shutter Inn, A-Frame Cabin and The Big Red Lodge, all of which are located 5mins from Rossland at the base of RED Mountain. 
Being a housekeeper at BRC/Red Shutter Inn comes with a variety of job tasks; laundry, vacuuming, mopping, disinfecting surfaces, bathrooms and general tidying. It also means that you are a part of a great team and might like to go cat skiing on your days off!
Qualifications
Previous housekeeping & experience an asset

Previous laundry experience an asset

Must be physically able to clean several hours

Must have previous customer service experience

Ability to lift and carry 35lbs

Must be available to work weekends
Schedule: Full & Part-time positions available. 
Mid December to late March.
How to Apply: Please submit a cover letter and resume to This email address is being protected from spambots. You need JavaScript enabled to view it..  Job will be posted until filled.
Gear Guru, Maintenance & Snow Shovelling  (FILLED)

Job Description/Duties:
This is a do it all type of job. Start your day helping prep the backcountry gear for the cat skiing guests, get your sweat on shovelling the overnight snow at the Red Shutter Inn/A-frame Cabin, prep ski rentals for the upcoming guests and help make sure those hot tubs are primed for guests to return to at the end of the day.
*Ski rental binding certification will be provided.
Qualifications
Must have strong attention to detail/organization.

Previous maintenance experience & carpentry skills are an asset.

Must like starting early & working shift work.

Must be physically capable of the strenuous work of shoveling and maintaining the Red Shutter Inn & Cabin entrances and decks

Must be able to lift 50 lbs.

Experience with hot tub maintenance.

Basic knowledge of skis/binding systems.
Schedule: Full & Part-time positions available. 
Mid December to late March.
How to Apply: Please submit a cover letter and resume to both This email address is being protected from spambots. You need JavaScript enabled to view it. and cc' This email address is being protected from spambots. You need JavaScript enabled to view it. 
Tail Guiding Practicums:
Throughout the season we offer a limited number of spaces for those training to become a certified guide. This volunteer position involves active observation and participation in daily guiding operations. When not skiing with the groups there are a variety of other snow safety tasks to assist with. 
Requirements:
CAA Level 1 Operations course
80-hour Wilderness First Aid required
CSGA1 qualification and previous ski patrol or instructing experience preferred
Canadian citizens and permanent residents only. 
Please submit your resume to This email address is being protected from spambots. You need JavaScript enabled to view it.@bigredcatskiing.com